Sinds kort hebben we een nieuwe optie op onze webshop, namelijk… 'NIEUW!'. Op deze pagina zie je, zoals de naam al zegt, het nieuwste van het nieuwste. Alle series die net zijn uitgekomen zetten wij hier voor je op een rijtje, zodat je vanaf nu altijd op de hoogte bent van de laatste trends… Zo mis je nooit iets nieuws!
Bij de allernieuwste series die wij deze week binnen hebben gekregen zit opvallend veel van Aubade. Deze nieuwe series zijn zeer luxueus uitgevoerd en perfect in de stijl die bij ieders najaar past. Natuurlijk hebben alle series eigen speciale kernmerken, zoals de elegante kleurcombinatie in de 'Idylle Parisienne', de fluwelen details van de 'Orient Excess' en de gouden randjes en speciale afneembare versiering voor op de schouderbandjes van de 'Mystérieuse Clandestine'.
Idylle Parisienne                          Orient Excess                            Mystérieuse Clandestine
De meest bijzondere Aubade serie van de 'nieuw' pagina is toch zeker 'La Passagère'. Alle bh's en slips zijn versierd met 2 of meer zwarte bandjes. De modellen in deze serie zijn de half cup (½ cup balconnet), de ¾ cup beugelbeha en de push-up beha met push-up kussentjes. Onder de cups bij alle bh's en voor op bij de slips staan de speciale details meteen in de spotlight! Ook hoort er bij La Passagère een jarretelgordel die volledig bestaat uit dit elegante lijnenspel van zwarte elastische banden. Je zou misschien denken dat je door die bandjes een 'rolletjes effect' uitlokt, maar wij kunnen je gerust stellen… Neem je de juiste maat, dan heb je hier geen last van!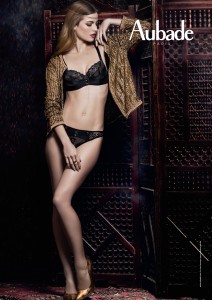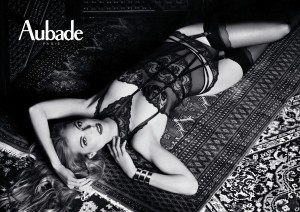 Ik kan me zelf voorstellen dat je voor het najaar nóg een stapje verder zou willen gaan… Mijn gouden tip voor dames die to the max willen: ga voor Mâle Sanglé. Deze serie komt ook uit de najaarscollectie van Aubade. De bh's en slips zijn uitgewerkt in weelderig kant met een super stijlvol en toch sexy kraagje om de hals. Een torselet is een prachtige aanvulling op deze serie, waar ook het bijzondere kraagje weer terugkomt… En laat die nou net bij deze serie horen! Liever een bh? De push-up bh en half cup bh (of ½ cup bh) zijn typerend voor een sprankelende Aubade set. Maak je set compleet met de boxer of de string van Mâle Sanglé.
Too much? Oké misschien moet je een béétje durven om deze serie te dragen, maar dit was nog niet alles hoor… Nu we toch aandacht besteden aan Aubade series met prachtig kant in het zwart, heb ik nog wel een paar tips. De Tickle Belle bijvoorbeeld. Een serie met rijkelijke kant versiering. De statement strik is speels en opvallend. Natuurlijk is deze niet op elk moment even praktisch… Je kunt hem er dus gewoon afhalen om er een dagelijks draagbare bh van te maken. En heb je ook gezien hoe mooi de schouderbandjes combineren met de strik?
Tickle Belle                                 Baiser de Constantinople
Dan is er nog één Aubade serie waar we niet omheen kunnen, namelijk 'Baiser de Constantinople'. Deze heeft misschien geen zwart kant, maar hij is wel zwart… Met kant! Er is namelijk een zeer elegant stukje kant in de bh verwerkt. Heel chique als je het ons vraagt. Het lijkt bijna alsof de bh het mooie blauwe stofje in een prijzenkast tentoonstelt! Wij zijn om!